DMPT Dimethyl-Beta-Propiothetin Hydrochloride Feed Additives
1.Development prospect and Aquatic Feed meaning
Dimethylsulfonyl propionate CAS 4337-33-1 is a white crystalline powder with a strong smell. Additionally, this stuff is of strong moisture absorption. It is very easily soluble in water and widely used for the baits of fish and other aquatic animals. Samller dose to these animals would be especially effective for the their growth and reduce the incidence of diseases.
DMPT as attractant has the advantages of efficient, safe, green and convenient, for aquatic animal feeding, growth, resistance and digestive enzyme activity and so on all have different degrees of promoting function, or for animal nutrition metabolism methyl source, can improve the meat quality of aquaculture products. Reduce the loss rate of feed, use effect has been widely approved.
Note It is acidic material,don't touch with alkaline additives directly.Storage In a Shade, Close, cool and Draughty place.
2.Main Functions
⋅food calling function:
DMPT aquatic animals through the sense of smell can accept water of low concentration chemical stimulation, can distinguish chemicals and extremely sensitive, the smell in the pouch of fold can increase the contact area of water environment with the outside world, in order to improve the sensitivity of the sense of smell.Therefore, fish, shrimp, crab DMPT on some special physiological mechanism has a strong smell of food calling, DMPT it is follow the aquatic animals this peculiar habits to improve aquatic animals feeding frequency.
As a food lure aquatic animals growth promoting agent, for a variety of freshwater fish, shrimp, crab feeding behavior and growth has a significant role in promoting.Make the aquatic animal bites bait number increase, its feeding stimulation effect than glutamine 2.55 times higher (glutamine is before DMPT on most of the best known effect of brackish water fish feeding stimulants).
⋅high efficiency methyl donor the growth:
DMPT groups (CH3) 2 s - on molecules, with functions of methyl donor, effectively use of aquatic animals, promote animal the secretion of digestive enzymes in the body, promote the fish's digestion and absorption of nutrients, improve the feed utilization rate.
⋅to improve anti-stress ability,osmotic pressure function:
Improve the sport ability of the aquatic animals and anti-stress effect (resistance to high temperature oxygen), improve the adaptability and survival rate of larvae, and can be used as osmotic pressure in the body buffer, in order to improve the aquatic animals to osmotic pressure to the endurance.
⋅has the similar effects each molt element:
Strong shell element function, increase the speed of shrimp, crab shell, especially in the middle of shrimp, crab breeding effect is more obvious.
⋅protect liver function
DMPT protect liver function, not only can improve the health status of animals, reduce the viscera/body weight ratio, improve the edible aquatic animals.
⋅Improve meat quality
DMPT can improve fish meat products, make the freshwater variety presents seafood flavor, improve the economic value.
⋅antibacterial effect
DMPT also has"allicin" similar care, antibacterial effect.
3.Residue problem
DMPT naturally occurring substance of aquatic animals, there is no residue problem, can use for a long time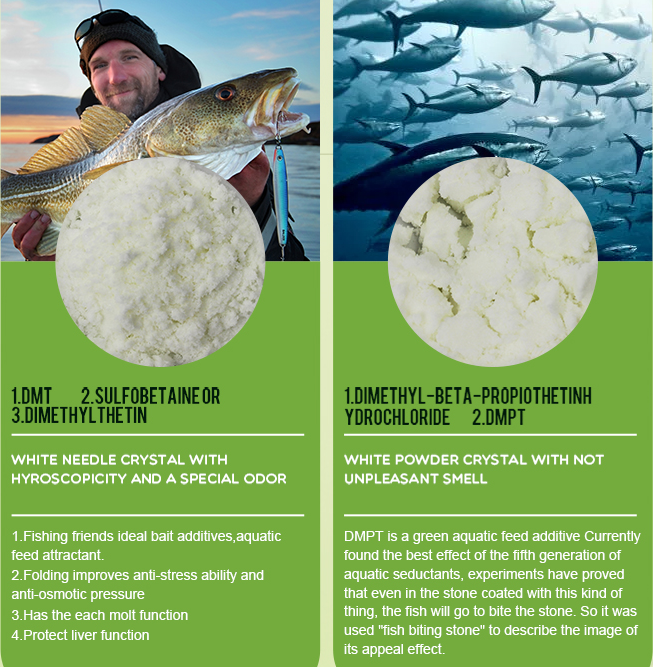 Aquatic Feed Additives DMPT Technique specification:
Name: Dimethylpropiothetin
Appearance: White Crystal powder, easy deliquescence
Assay: ≥ 98.0%
Solubility: Soluble in water, Insoluble in organic solvent
Dimethyl Propiothetin Mechanism of action: Attractant Mechanism, Molting and growth-promoting mechanism same as DMT.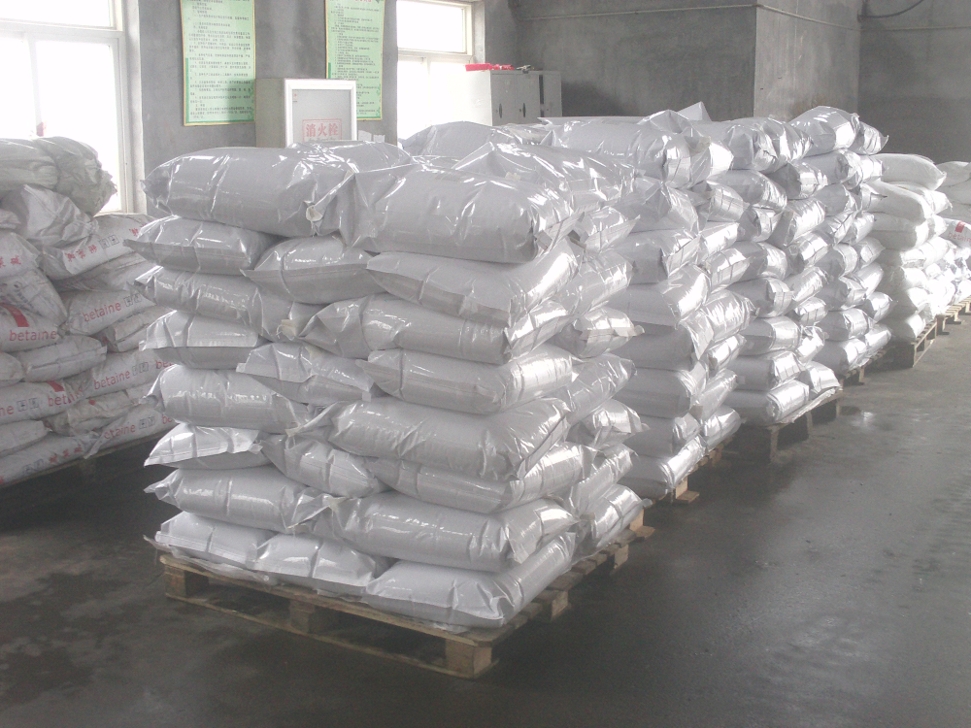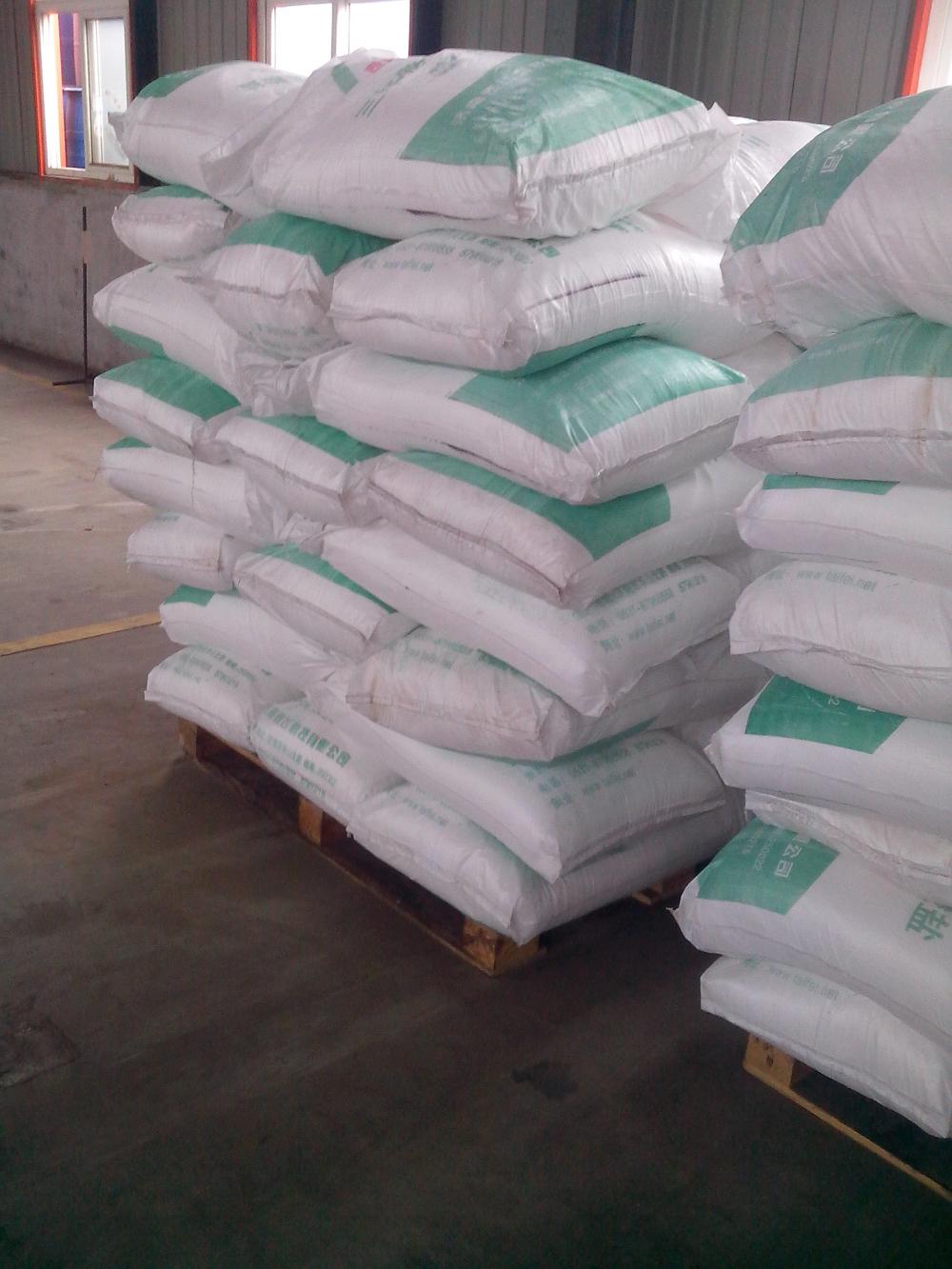 Pharmaceutical Grade Dmpt Function characteristic:
1. DMPT is a natural S-containing compound (thio Betaine ), and It is revert to as the fourth generation attractant for aquatic animals. The attractant effect of DMPT is around 1.25 times better than choline chloride, 2.56 times betaine, 1.42 times methyl-methionine and 1.56 times better than glutamine.Amino acid gultamine is the best kind of attractant, but the effect of DMPT is better than Amino acid glutamine; Squid internal organs, earthworms extract attractant role, mainly amino acids with a variety of reasons; Scallops can also be as an attractant, its flavor is derived from DMPT; Studies have shown that the effect DMPT is the best attractant.
2. DMPT growth-promoting effect is 2.5 times than the semi-natural food.
3. DMPT also improve breeding varieties of meat, seafood flavor of the freshwater species present, thereby enhancing the economic value of freshwater species.
4. DMPT is also a shelling hormone substances. For crabs and other aquatic animals, shelling rate is significantly accelerated.
5. DMT provides more space for some inexpensive protein source.
Aquatic Feed dmpt Usage and Dosage:
This product can be added to premix, concentrates, etc. As feed intake, the range is not limited to fish feed, including bait. This product can be added directly or indirectly, as long as the attractant and feed can be mixed well.
Recommended dosage:
shrimp : 200-500 g / ton complete feed; fish: 100 - 400 g / ton complete feed
Storage:
Sealed, stored in a cool, ventilated, dry place, avoid moisture.
Package: 25kg/bag
Shelf life: 12 Months
Our products are divided into three parts : food &feed additives,Pharmaceutical Intermediates and oilfield auxiliaries. the feed additives devotes to the research and production of Betaine Hcl , Anhydrous Betaine , Compound Betaine,DMT, DMPT, TRIMETHYLAMINE N-OXIDE( Tmao ) , And on going technology updates , the technology in a leading position . Pharmaceutical intermediates and oilfield anuxiliaries include Piperidone series , anthracene series, glycerol derivatives
Looking for ideal Fishery Industry Feed Additive Manufacturer & supplier ? We have a wide selection at great prices to help you get creative. All the DMPT
Aquatic Attractant
are quality guaranteed. We are China Origin Factory of 4337-33-1 Dmpt Powder. If you have any question, please feel free to contact us.
Product Categories : Feed Additives > Aquatic Attractant